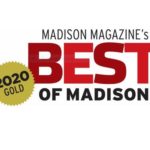 There is lots of exciting news here at The Speckled Hen Inn!
While the COVID-19 pandemic was happening, we decided to take advantage of this gift of time and move forward on our long list of "To-Do's".
We also wanted to share some wonderful things happening along the way!
We have won two awards for 2020 and been nominated for a third which we won't know about until the end of May:

Best of Madison GOLD for 2020!
HotelsCombined Award of Excellence which is awarded to only the top 3% of hotels in the world!
Nominated for the Governor's Award for Tourism – specifically sustainability – to be announced at the end of May!

With the help of our staff, we have scraped, sanded, primed and painted all the white railings around the entire Inn.  If you've been here you know what an accomplishment that was!
We've been on a wait list for two years for the Dane County Farmer's Market and have been notified  we are now in!  We will begin marketing our fresh produce, maple syrup  and farm fresh eggs on Capital Square very soon!
We have been talking about partnering with another couple for some time now because we want to take the property to the next level.  We want to make The Speckled Hen Inn a Madison Destination!  In addition to an already outstanding bed and breakfast experience, our goal is to offer complete stay and play packages including:
Complete agri-experiences
Animal encounters
A week-night pizza dinner in the orchard
Classes on growing produce and canning with the ability to take some home with you
Cooking classes featuring what we grow as you enjoy a glass of wine and tastings
However, we just can't do it alone so we officially put the Inn on the market.  We will retain the agricultural side and, once we find new Innkeepers, we will focus on expanding our agricultural offerings.
We are seeking another like-minded couple to purchase and run the Inn.  For more info, click here