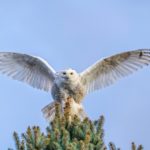 Guess who's back????
Our beautiful snowy owl is back again this winter and has made its home in the tall pine trees of the back woods.  Although there used to be two of them, only one has returned for the past couple of years.  And since they mate for life, it is sad to think of what may have happened to the other one, but we sure are glad to see this one considers us as their home for the winter.
If you've never seen a snowy owl, they really are spectacular.  With a wingspan of 6′, our snowy owl likes to roost in the back woods and utilize the big pasture that we refer to as "the football field" as a runway.  This beauty appears normally early in the morning and again at dusk but has also been seen at other random times.
Our guests often use the complementary snowshoes we provide to venture out and see if they can spot it.  But timing is everything…