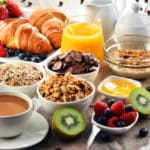 Breakfast will begin service again on May 5, 2022.  
Breakfast Reinvented – As of May 5, 2022, we are providing a breakfast, but it's different than it used to be.  We learned a lot along the way and have responded to our guest requests by revising the concept of breakfast into a menu of choices the guest chooses when they arrive.  Happily, we will continue to offer the wonderful organic produce grown on the property, but the new menu will accommodate special diets in the choices themselves along with flexibility in when guests want to enjoy it.
In addition, guests still enjoy the same great getaway experience with a beautiful inn and amenities, a menagerie of animals to enjoy, and plenty of property to explore.
And in times like this, we all need a little getaway.
In the meantime, please Support Local by visiting the following great restaurants in Madison:
The Jet Room – located just a mile away on the Executive Airport tarmac
Highway Cafe – located just a mile away at Hwy 51/I90
Marigold Kitchen – located off Capital Square
Shortstack – Located on Johnson Street
Monty's Blueplate Diner – located in the funky Atwood neighborhood – Gluten Free, Vegan, Vegetarian options
The Daisy Cafe – also located in the funky Atwood neighborhood
Yola's Cafe – Best known for waffles – organic, allergen friendly too!
Although it's a chain, for that old fashioned Southern cooking, you can't beat
Cracker Barrel – located just a mile away and offers great shopping while you wait