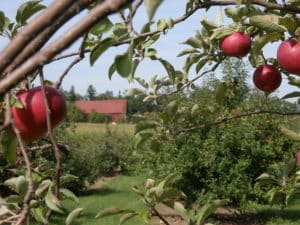 Guests at The Speckled Hen Inn often ask us about our favorite apple orchards near Madison WI and we are delighted to recommend a couple of our favorites, other than our own of course.
The air of Wisconsin has grown crisp and soon the leaves with be dancing across the pasture. The cooler temperatures that fall brings open up the possibilities to get out and appreciate the beauty of nature. The Madison area has been truly fortunate to be experiencing some of the most ideal temperatures for outdoor activities. So, if you're having any thoughts about coming to the area for a short getaway, now is the time. Sometimes, if you're lucky, that getaway includes going to a local orchard and bringing treasures back to enhance the beauty of your home or incorporating them into your meals and desserts.
Book a stay with us and while you are visiting the Madison area, you'll find that there are several simple and unique options to choose from but there are a few that we can recommend from personal experience that are within a short distance from the Speckled Hen Inn. The first would be a longstanding family owned and operated orchard just down the road from our Inn in Poynette.  Lapacek's Orchard has made the announcement locals wait all summer for; that they are open for fall operations. Multiple generations are involved in the daily operations including picking the apples, preparing product for sale or working the cider press. While you're out enjoying the sites, a caramel apple or baking with your sweetheart, know that the Lapacek's dream of owning an orchard began as they spent their afternoons enjoying the same simple pleasures, years ago. In addition to the many apples, condiments and other apple products, Lapacek's also has a wide variety of pumpkins, gourds, and nearly all the fall decorating provisions.
An orchard that has remained a constant for the Madison community for over 150 years and has earned a shout out on the blog is Door Creek Orchard. Basing their philosophies on sustainable farming practices, Door Creek has been able to produce a robust, quality harvest nearly every year. They've also been able to balance the desire for a practical income with creating an environment with little environmental impact and a focus on the escape from the urban and commercialized feel that dominates much of the orchard trade.