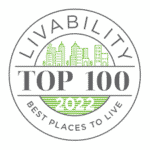 So I received an email the other day.  Just another email, I thought, trying to get business.  But apparently not – they just wanted to inform us that we have bragging rights by living here in Madison.
And here's what they said:
Livability is the go-to resource for anyone looking to discover the best places to live, work, and visit. Each year we release a data-driven list of the Top 100 Best Places to Live in America.
The big news – your city has made our list for 2022! Madison, WI is ranked #1, which is an amazing feat! With over 19,000 cities in the US, being in the Top 100 means you're in the top 1% of best places to live.
Since March 2020, more than 42% of the U.S. population has either moved or considered moving. As home prices hit historical highs and inflation continues to rise, it is more important than ever that we create homes in places that are both affordable and functional for a diverse and growing population. Affordability is a core value for Livability, so we look for places that are growing wages and home values while maintaining an affordable cost of living. 
This year, Livability focused on mid-sized cities (generally defined as 500,000 population or smaller) that are attracting big waves of young people. We also added more weight to some of our measures of diversity and inclusion in order to reflect what millennials are looking for in the cities they choose to call home. If you want to learn more about how this list came together, please check out our methodology page and ranking criteria.
At Livability.com, we are passionate about finding the good and praising it, and each of these cities has something special to offer its residents. If you're a young person looking for a fresh start, sick of living paycheck to paycheck due to insane rent prices and want to find a community that will welcome you with open arms, this list is for you.  
These 100 cities are welcoming, affordable and offer the space and opportunity to grow, both professionally and personally. 
The only thing missing? You.