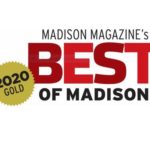 There is lots of exciting news here at The Speckled Hen Inn!
While the COVID-19 pandemic was happening, we decided to take advantage of this gift of time and move forward on our long list of "To-Do's".
We also wanted to share some good news that happened along the way.
The Speckled Hen Inn won two awards for 2020, was mentioned in a national travel magazine article, and has been nominated for a third:

Best of Madison GOLD for 2020!
HotelsCombined Award of Excellence which is awarded to only the top 3% of hotels in the world!
Nominated for the Governor's Award for Tourism – specifically sustainability.
Named by Conde Nast Travel as "The Place to Stay" when you come to Madison!

While there was plenty of down-time due to COVID, we scraped, sanded, primed and painted all the white railings around the entire Inn.  If you've been here you know what an accomplishment that was!
As many of you know, we waited for over two years to become a member of the Dane County Farmer's Market.  This entailed many expenditures including licenses, fees, inspections, and equipment, only to find out Capital Square will not permit any vending during the pandemic.  So, we're now doing our own bi-weekly Farmer's Market and if you want to be on the list, just give us a call.
We've changed the way we do business.   We've reduced the number of guest rooms available and the ground floor of the Inn, which includes the guest rooms, is exclusively for guest use.   Guest space now includes a sitting room with fireplace, game area, wood burning stove, galley kitchen and theatre room.  Our spacious guest rooms have king sized beds with plush bedding, fireplaces, and private baths, with an option of jetted or claw tub as well as separate walk in showers in both baths.   Guests also enjoy the fire pit, gazebo, walking paths and beautiful grounds.   Although we're no longer including breakfast, we've adjusted our rates to reflect that change, and guests still enjoy the same great getaway experience with a beautiful inn and amenities, a menagerie of animals to enjoy, and plenty of property to explore.  And in times like this, we all need a little getaway.