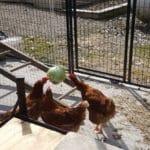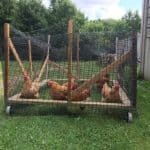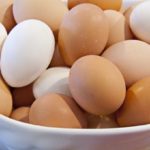 For a limited time The Speckled Hen Inn  is offering fresh eggs for sale!
YES!  The Speckled Hen Inn Bed and Breakfast really does have SPECKLED HENS – 50 of them in fact!
Guests are encouraged to meander the property when they're staying with us.  We also encourage guests to feed the hens with the fresh produce we provide for them from the gardens.  Our very happy hens provide us with wonderful eggs that we use at breakfast every day!  Compare their full, rich yellow yolks with those from the grocery store to see (and TASTE) for yourself!
Is there really such a thing as happy chickens?
We think so!  Our sweet speckled hens have every reason to be happy.  They have jungle gyms they love to climb, and cabbage pinata parties.  They even have their very own gardens because they love greens!     In the warmer months those that want to have the opportunity to catch the "bus" which is a mesh-enclosed pen on wheels built especially for them to be able to free range safely.  This is so we can protect them from their predators which include owls, hawks, raccoons, coyotes, and most recently the fox family that also calls our property home.  And in the winter months, these happy girls even have a heated coop!
How do I get some?
Whether you're using our eggs to cook, bake, or hard boil you won't be disappointed!  But hurry – it's only in the winter when we are in our slower season that we are fortunate enough to be able to offer our farm fresh eggs FOR SALE – so just ask!   If you live nearby and just want to have fresh eggs give us a call.  You can stop by and pick them up.  And if you're a guest you can request them upon check-out or add them to your bill.   You can also get some of our fresh eggs at the Dane County Farmer's Market beginning in April, 2020, where we are now an official vendor!
Email us here at The Speckled Hen Inn Bed and Breakfast at innkeeper@speckledheninn.com.  Or you can CALL  608-244-9368, or TEXT  this link and let us know how many and when you'd like them and we'll have them ready for you when you come!  ONLY $4/dozen!