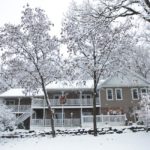 The Speckled Hen Inn Bed and Breakfast in Madison has made the list of the 12 Day Trips of Christmas in Wisconsin!   Wisconsin is an amazing state and Madison is a great place to live, work and play.  For our out of state visitors, Madison is an all time favorite spot because there's always something going on.  For those of you that love the outdoors, Madison offers ice skating, hiking, cross country skiing, ice fishing, and even miniature golf on the Lake!   And if you're looking or something really unusual and adventurous to do, why not try
The Speckled Hen Inn offers its guests complimentary snow shoes for trekking our 20 acres in search of deer, wild turkey, mink, fox, coyote, owls and many other species of birds found on the property as well as our own menagerie of sheep, llama and 36 hens-a-laying!  From the local craft breweries, cheese shops, restaurants, museums, and great holiday shopping, there's every reason to come to Madison this Christmas!
The Speckled Hen Inn Bed and Breakfast is a unique retreat in that it is close to everything, yet feels like you're miles away.   Choose from rooms or suites – all have  fireplaces, 4 out of 5 have jetted tubs, and the inn offers plenty of space to stretch out.  There are several areas to gather including a theatre room or just enjoy a good book in front of the fire.  No matter what you're looking for, The Hen is a great spot for a romantic weekend, a friends reunion, a family get-together, or an escape for one for a little "me time".   You'll enjoy extraordinary winter savings Sunday thru Wednesday nights with breakfast on your own.  But for those of you that want the extra pampering, we offer a 3-4 course gourmet breakfast Fri-Sun all winter long.
Looking for a place to go New Year's Weekend?  Check out our multi-night stay deals on the 5 day New Year's Eve Weekend you'll find hard to resist.   And we're offering the full gourmet breakfast the entire 5 day weekend.  The longer you stay, the more you save!