Are you wondering where to go hiking near Madison WI?  We have some great suggestions for you.
Where could there possibly be hiking in the Madison area? When people visit Madison, they expect the urban landscape of the university, the well-known restaurants gleamed about in magazines and the water sports the Madison lakes provide. One aspect that is often overlooked is the wide variety of best walking and hiking trails enjoyed by thousands every year.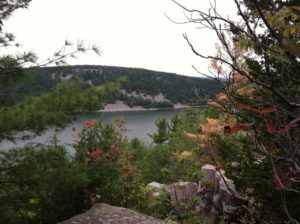 One of the best-known and highly anticipated hiking spots is a short drive to Devils Lake.  Whether you are a novice or advanced hiker, you will find trails to fit your experience level and remarkable beauty in the views here. The glaciers that dominated most of the Wisconsin landscape left rare geologic formations such as this for us to enjoy. From high peaked bluffs and rocky outcrops to grotto's and wooded landscape, Devils Lake truly has everything to offer with trails ranging from .1 miles to 13.7 miles. After you have enjoyed your hike, you can save the afternoon for a cool down in the lake or even rent a boat or canoe.
For those that don't have the entire day to spend out frolicking in the woods but still want to get some nature-time in, Madison also offers some shorter trails within its urban scenery. For example, Lakeshore Nature Preserve of the University of Wisconsin offers a variety of excursions that can be tailored to fit your desires. One of the possibilities is a favorite of Madisonians, Picnic Point.  It's a short 1-mile walk on a peninsula out to the beautiful scenery of Lake Mendota where you can sit and enjoy the view or you can continue with your walk and add a few of the other preserve destinations to your route.
Here at the Speckled Hen Inn, the soft petals of the blossoming flowers, the blooming orchards and the thriving gardens are beckoning for you to come walking down our trails as well. Within our property, there are several trails that will accommodate a short stroll around the acreage including trails leading to Starkweather Creek. We have the privilege of keeping our property private, which gives greater promise of wildlife viewing.
Now is the perfect time to get out and enjoy the summer – especially in the great outdoors of Wisconsin.