Madison Restaurants
Fun and Casual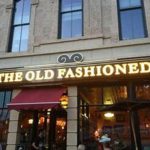 The Old Fashioned – we love this place.  It looks to be a former drug store/soda fountain establishment and has a great menu with lots of Wisconsin foods, including the best cheese curds I have personally ever had.   Also, great cheese trays and the prices are amazingly low for the quality and quantity provided.
Graze – This is a sister restaurant to the popular L'Etoile, with a similar menu, but at half the price and they don't take reservations so be prepared for a wait no matter what time you go.  Eclectic menu, great dishes for sharing, and the chefs really love matching color, texture, and taste to their dishes.
Sardine – the next on our list to visit because everyone who has stayed here that has visited has raved about it.  Also an eclectic menu, a little pricey, noisy, but on the water and they are known for their creative menu, great food and service.
Cento – A hot spot downtown for Italian and variety cuisine, especially before and after the theatre which is across the street.  Good food, but noisy due to the open atmosphere and all the metal and glass architecture.
The Great Dane & The Nitty Gritty – both hot spots with the university students and returning graduates that are visiting.  Both are pubs/brewing companies known for their good old fashioned Wisconsin fare including burgers, salads, sandwiches and other filling foods – and oh yes, beer.
Buck and Honey's – Locations in Sun Prairie, Waunakee, and in Monona.  Each has its own design – Sun Prairie is more lodge-like with dark woods and Monona is more contemporary.  Both have great menu's and feature some wonderfully unique and delicious dishes – the bacon wrapped Cream cheese stuffed dates are our favorite!  They have won many awards and have delighted our guests.
Erin's Snug Irish Pub – Only a couple miles from us and an excellent choice, whether it's Friday Fish Night or any other night.  Great menu, great food and friendly service.  Outdoor seating in warmer months, and the interior is exactly what you'd expect for a great little Irish pub.
Great for Anniversaries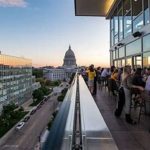 L'Etoile – Beautiful glass encased surroundings overlooking the Capital.  Pricey, but worth every penny.  Many extra little touches, a special tiny course surprise if you let them know it's your anniversary.
Eno Vino Wine Bar & Bistro – Overlooking the City, Capital, and Lake Mendota on the top floor of the AC Marriott Hotel downtown.  Tapas (small plates) and wines with an amazing view (see featured photo).
Red – Which stands for (R)efreshing (E)legant (D)elicious, is offers a contemporary take on sushi and modern cuisine with creative recipes that go beyond Japanese tradition.  They are known for the best sushi in Madison.
Rare Steakhouse – Known for excellent steak and wine bar.  Located on Capital Square, great food and ambiance for a special occasion.
Heritage Tavern – Well known for its small plates and charcuterie, but also for its farm to table menu.  Right off Capital Square.
Harvey House – Hidden behind Madison's Historic Train Depot, The Harvey House is a Wisconsin true iconic supper club.   Incredibly re-designed interiors and the menu features Midwestern cuisine with a twist – including all the wonderful foods that come from Wisconsin.
Ishnala – Located on Lake Delton (about 40 minutes from Madison), by far my favorite restaurant EVER.  Beautiful lodge, owned by the Hoffman Brothers and known for their fabulous meats and iconic supper club experience, it's worth the drive and every penny spent.  But they don't take reservations so get there early or plan to wait.  But even if you have to wait, there's music and a wonderful variety of supper club cocktails to enjoy as you meander or sit and enjoy the views.