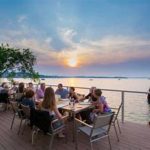 Who doesn't love dining on the water???
Pier Side Service: Recent renovations at The Edgewater hotel brought a bigger pier with 40 slips and pier attendants so Lake Mendota boaters can tie up worry-free while enjoying its eateries. The Boathouse is located at lake level, and features fish fry, burgers, brats and a selection of craft brews. Or, get grab-and-go pizza and snacks at The Icehouse, located at the base of The Plaza.
Seafood by the Lakeshore: It's no secret that Sardine is known for its oyster happy hour, which takes place every day from 4-6 p.m. But its bistro-style dining also features French and American fare for dinner—and brunch on both Saturday and Sunday. All with a stunning view, too!
IN & ON THE LAKE
 On the Marina: The Mariner's Inn was the von Rutenberg family's first restaurant and is almost as famous for its steaks and seafood as it is for its spot in the marina on the north end of Lake Mendota. You won't want to miss the sunset view from the patio—or the authentic antiques inside that create this restaurant's renowned ambience.
All Aboard: From April through October, the family even offers the chance to dine aboard the Betty Lou, a chartered cruise around Lake Mendota or Monona that comes complete with a captain, bar and buffet service—all you have to do is enjoy!
FRANK LLOYD WRIGHT FLAVOR
Top of the Terrace: If you're a Frank Lloyd Wright fan, you'll love the Lake Vista Café at Monona Terrace®. Some say it's a hidden gem, but being located atop an architectural masterpiece makes it one of Madison's most visible—and visited—dining destinations.
LAKE WISCONSIN
Enjoy a casual meal and drinks on the water at Fitz's on the Lake.  Just 20 minutes away in Lodi and located on the water, they offer indoor and outdoor dining.  Outdoor dining is fun and relaxing, as you watch boaters come and go at the dock.  They specialize in fish fry, so Fridays are really busy, but they offer burgers, sandwiches, salads, and pasta.  They have nightly happy hour specials and also offer Sunday breakfast buffet and Sunday dinners.  They're also close to the Merrimac Ferry so it's fun to hop on the ferry and get an ice cream – there's an ice cream shop on both sides, and then take a scenic drive back another way.
WISCONSIN DELLS – Only 40 minutes away and worth the drive!!!!
Ishnala – Located on Lake Delton (about 40 minutes from Madison), by far my favorite restaurant EVER.  Beautiful lodge, owned by the Hoffman Brothers and known for their fabulous meats and iconic supper club experience, it's worth the drive and every penny spent.  But they don't take reservations so get there early or plan to wait.  But even if you have to wait, there's music and a wonderful variety of supper club cocktails to enjoy as you meander or sit and enjoy the views.