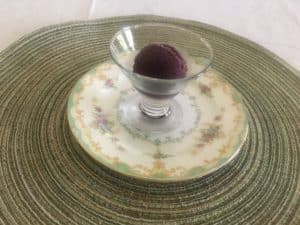 When berries come into season in July, we have so many different kinds in abundance that we really enjoy using them in a variety of ways.  One of the traditions here at The Speckled Hen Inn is our sorbet served as the 3rd (or in many cases during harvest seasons the 4th) course.    We discovered a mulberry tree near the back gardens this year so we have added it to our list of sorbets we make and serve but you can add any berry you like – blueberry, raspberry, strawberry, blackberry – just strain the seeds.
Here's the recipe:
 Mulberry Sorbet
We recommend using a sorbet/ice cream maker.
Ingredients:
4-1/2 cups mulberries (or any berry)
6T lemon juice (may add more to taste)
1/2 cup corn syrup
1-1/4 cup sugar
Directions:
Combine the berries sugar, corn syrup and lemon juice in a blender or food processor that has been fitted with the metal blade.   Pulse to chop, then process until thick and smooth, scraping jar or work bowl as necessary with a spatula.    The berry puree may be made up to one day ahead; cover and refrigerate until ready to use.
Turn the sorbet machine on, pour blueberry puree into the sorbet maker freezer bowl through ingredient spout and mix until thickened, about 25-30 minutes.  Cover with foil and it keeps for about a week.  Scoop into dishes and enjoy as a palette cleanser and perfect ending to a gourmet breakfast or brunch!