The St. Louis Post Dispatch talks about Madison…
and The Speckled Hen Inn!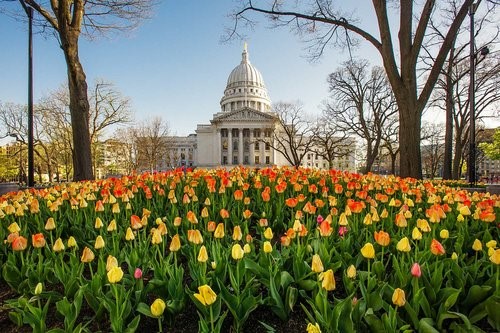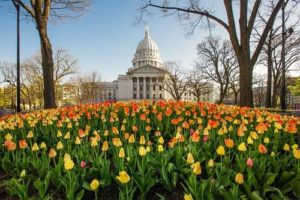 When it comes to things to do in Madison, The Speckled Hen Inn always tells our guests, "You will run out of time before you run out of things to do".
Madison is not only the State Capitol, but it is unusually set between two huge lakes on what we call the "Isthmus" and has one of the best rated universities in the nation.  We are well known for Frank Lloyd Wright architecture, amazing restaurants, cultural events, great bike trails, botanical gardens, and one of the best and largest farmer's markets in the Midwest, if not the nation!
Madison is host to the World Dairy Expo, the Midwest Horse Fair, BratFest, UW Madison Sports Events, Festivals and Fairs, Concerts and Live Music, Food Events & Tours, the Henry Vilas Zoo (which is FREE by the way), Beaches, Boat Tours, and Numerous Museums.  Madison is also home to some of the best breweries, cheeseries, and restaurants around – but plan your time wisely – and you might want to make reservations so that you don't waste time in line waiting for a table.
There's something to do in every season, and Madisonians are proud to be a part of making life year-round not just habitable, but FUN!  From the zany Lady of Liberty in the middle of winter on Lake Mendota, to Bucky on Parade, Madison loves to have fun.  And I guess the word is getting around because we're now even being talked about in the St. Louis Post Dispatch – YAY!
What an honor to be mentioned in a news article all the way in St. Louis.  The article promotes Madison and all there is to do here and also mentions unique places to stay, in which The Speckled Hen Inn is named, so thank you St. Louis Post Dispatch!
We love where we live because we're close to everything, yet it feels like we're miles away.  Our guests love The Speckled Hen Inn because it's unique, just like Madison, and has all the comforts of fine lodging with the addition of 18 acres with a beautiful pasture and grazing animals to enjoy.   Whether it's the farm to table breakfasts with lots of choices on the menu, walking around the serene and beautiful grounds, or an experiencing an up-close animal encounter, it's the perfect setting for relaxation after a day around town taking advantage of all Madison has to offer!
For more recommendations on things to do in the warmer months as well as the colder months and places to eat check out our blogs.  And when you're visiting Madison, come and stay with us at The Speckled Hen Inn and see what everyone's talking about!