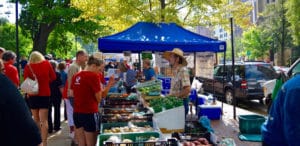 The Dane County Farmer's Market will be outdoors on Capital Square through November 12th and then moves indoors to the Garver Feed Mill for the winter.
If you're a new visitor to Madison, or just new to the Dane County Farmer's Market, here are some insider tips for you to make your adventure successful (and fun)!
1. Get there early!  It starts at 6:15am and the early bird gets the worm (and sometimes the last of the baked goods!).
2. Get a good parking space in one of the nearby parking structures and enjoy the walk to the Square.
3. The line (or swarm, depending on when you get there) goes counterclockwise so just step in when you can and don't rock the boat.
4. Don't buy anything right away.   Find Stella's Bakery for the famous cheese bread or Chris & Lori's Bakehouse for the famous scones and buy enough to keep your hands and mouth busy for one lap around the Square.
5. Now, on the second lap, stop there again and buy another loaf – this time to take home – and get ready to do some serious buying.  You will find the most beautiful flowers, cheeses and hand-crafted items – not to mention perfect produce and honey – all locally produced and proudly displayed.
And if you're staying with us here at The Speckled Hen Inn, we are always happy to provide ice and even coolers for you so that you can preserve your treasured fruits and vegetables during your stay.