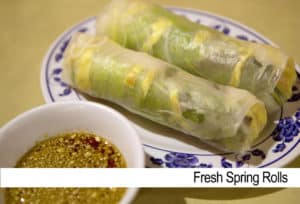 We want to share with you a bit of information about a couple of our favorite ethnic restaurants in Madison, WI. Many guests here at the Speckled Hen Inn ask for recommendations on local restaurants especially seeking those that are ambassadors for the unique flair of Madison.
I find it intriguing how much of our behavior depends on the weather and the timing of the rise and setting of the sun. Often we feel sluggish during the deepest days of winter and our spirits and activities liven with the first signs of spring. There is something about those spring signs that signal my brain to get off the couch and try something I've never tried before. Growing up in a traditional German family, our meals typically consisted of bland meats seasoned with salt and pepper. Bor-ing. As I grew older and developed traditions of my own, my palate also expanded to include ethnic foods from around the globe. I haven't mastered cooking many exotic dishes, which is why I've become so dependent on local ethnic restaurants in Madison, WI.
When the weather is cooperative, we like to hop on the bikes and ride downtown. If biking isn't an option you can drive downtown, park the car and stroll around with a new restaurant in mind as the final destination while stopping in different shops and meeting new people along the way. Walking from the capital down Willy Street (Williamson) toward Lao Laan-Xang,traditional Laotian restaurant, you will come across many little café's and shops including a local favorite, Willy Street Co-op. The menu is very traditional and can seem a bit overwhelming especially if this is a new style of food for you. Don't be afraid to ask your server for the most popular dish or for their recommendations. Since I have a bit of a sweet tooth and love curry, the Pineapple Curry dish has been a repeat dish for me.
If you're a regular reader of our blogs, you'll know that I am a fan of State Street and all that it embodies, food included. While checking out the many shops of State Street, you will come across several chain restaurants but I encourage you to resist the urge of familiarity and keep walking to Kabul , a quaint little restaurant serving Afghani and Mediterranean cuisine. The menu varies a little between lunch and dinner but most entrees remain the same. Bandinjan Chalow (seasoned and cooked eggplant with rice and yogurt dressing) fills my desire for new tastes and textures but is light enough to keep walking and window-shopping.
I will warn you, once you open up your palate to the possibilities, you'll find that Madison has vast possibilities for trying new dishes.  Then, you too will have some favorite Ethnic restaurants in Madison WI to share with your friends.