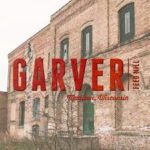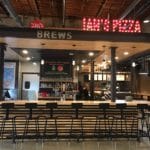 Looking for something new in Madison?  Check out Garver's Feed Mill off Atwood Avenue!  We learned of it from guests who spent their wedding night with us – and were the very first wedding venue at the newly (and beautifully) renovated historic building.  Garver's Feed Mill has set out to be a foodie and wellness destination – transforming the historic mill into a platform for local food businesses to grow and expand Madison's profile as a Midwestern hub of high quality hand crafted food and drink.  Tenants include Ian's Pizza, Calliope Ice Cream, Surya Café, Ledger Coffee Roasters, Kosa Ayurvedic Spa, Perennial Yoga, Sitka Salmon Shares, NessAlla Kombucha, Underground Food Collective, Briar Loft floral design, Twig & Olive Photography, and American Skillet Company, featuring cast iron skillets for every state in the US, as well as some fabulous cooking classes to show how to use them.
Ian's Pizza also offers Calliope Ice Cream, Cadence Cold Brew Coffee, as well as local beer on tap.  Cadence Cold Brew was amazing.  Crisp, clear, and so flavorful!  I especially loved the Calliope ice cream – CRAZY flavors that rotate – like Goat Cheese with candied lemon peel, Brandy Old Fashioned, Hot Peanut Butter, a Thai inspired peanut butter with Sriracha, and Mexican Hot Chocolate with Cinnamon & Chipotle – and believe it or not – they are all WONDERFUL!  The manager let me know they will soon be offering flights for the ice cream – whoohoo!
Over the weekend Ian's Pizza offered cranberry beer and made beer floats with cranberry ice cream that was the hit of the day.  Only in Wisconsin can you get such creativity – whether it's with beer, cheese, or ice cream.  You gotta love Madison – especially if you're a FOODIE!