There's always something to do in Madison in the winter and everyone loves a nature escape!   With all the animals on our property, nature escapes are a Speckled Hen Inn specialty, especially in the winter!  Lilly and her flock of sheep love the cold and are almost always out in the pasture no matter what the temperature.  The chickens, on the other hand, not so much!   Instead, our pampered speckled hens prefer to remain in their heated coop!
Guests are the same way – some love it outdoors and want to explore.  But others love to watch nature from the cozy indoors  with a nice cup of warm cranberry rum punch!    So whether you can only take the cold for a short period of time or you love to stay out all day, everyone can appreciate a Madison Winter Nature Escape and The Speckled Hen Inn is a great spot to stay when you're here.
Check out some of these short outdoor activities to day-long options:
Short Outdoor Activities (1-2 hrs)
Ice Skate at The Edgewater
Groove & Glide Ice Skating Under the Stars
Cruise State Street
Madison Eats Walking Food Tour
Day-Long Outdoor Activities (3-8 hrs)
Blue Mound Candlelight Ski, Hike & Snowshoe Event
Sledding at Elver Park
Snow Tubing at Cascade
Take a Winter Walk at The Arboretum
Go Ice Fishing!
While You're Staying at the Inn Take a Walk in the Woods or down Christmas tree lane.  As you explore the property, you'll appreciate the unique beauty of nature that only winter brings.   Because in winter, it's easier to spot deer, fox, coyote, mink, hawks, owls and wild turkeys since they're most likely out looking for food.   And there's plenty of food available for them right here on the property.  There is also no shortage of winter birds for our bird watchers.  You may even see the beautiful snow owls with their 6-foot wing span that glide over the back pasture to their nest in the trees.  Don't worry – when there's lots of snow, we provide snowshoes for our guests to use to enjoy all that the property has to offer.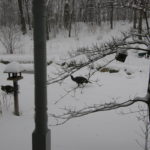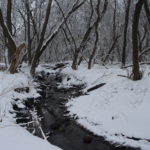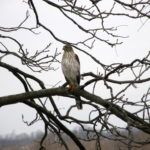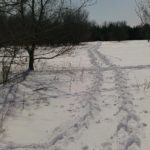 Then Come in and Warm Up…
Through January 21st you can nestle in and enjoy the enchanted, magical Christmas Village, and the unique Snowing Tree with twinkling white lights.   It's so nice to feel the warmth of a fire and enjoy a hot cup of warm cranberry rum punch, fresh baked cookies, or our guest favorite – Rum Balls!    Enjoy some time at the puzzle table or in the theater room to watch the game or your favorite show or movie.  Play the piano or just relax in front of the fire or in your cozy suite with jetted tub and fireplace.   It's all here just waiting for you.  Sound good?  Book a Stay!