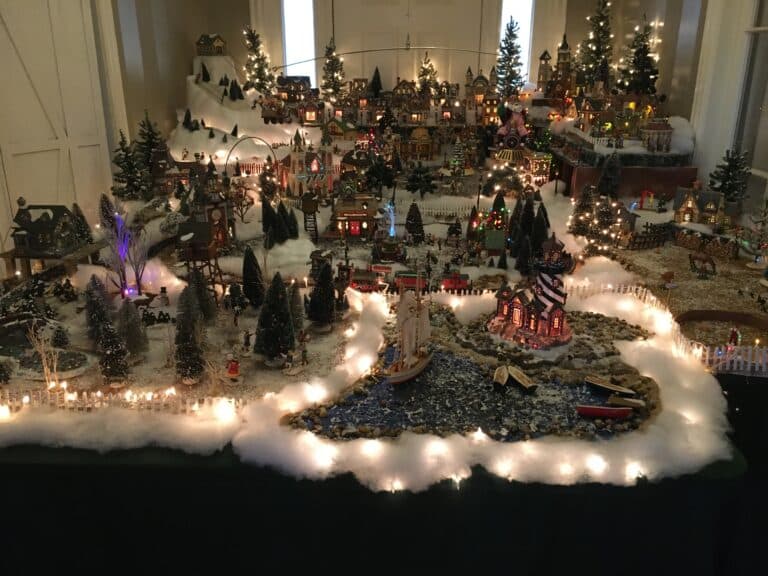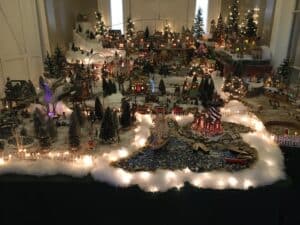 I don't know about you, but I just love Christmas and there's something magical about a Christmas Village.   I always dreamed of having a home that would invite people to come just by how it made them feel.  From the first time I saw The Speckled Hen Inn online when it was for sale in 2015, I knew this was the place.   It took a bit more convincing for my husband, but after visiting, he loved it too.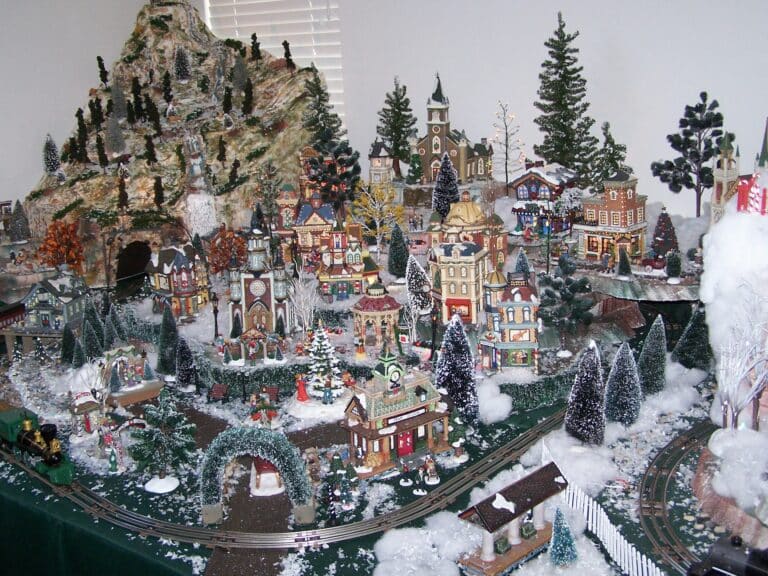 We lived in San Diego at the time and our home always seemed to have guests.  The home itself was welcoming – not only for its many areas to entertain, but because we were always cooking and as the saying goes, "Feed them and they will come".   Hence, our desire to escape the corporate world where we hardly saw each other and transition into the B&B business, where we get to work together every day.  We also love to decorate at Christmas, so the Christmas Village that began as a little table in the living room eventually grew into an entire room.    A good friend had several Lionel trains that we incorporated into the village, and we built a mountain out of plaster of Paris and put in trees, a waterfall, and tunnel for one of the trains to run through.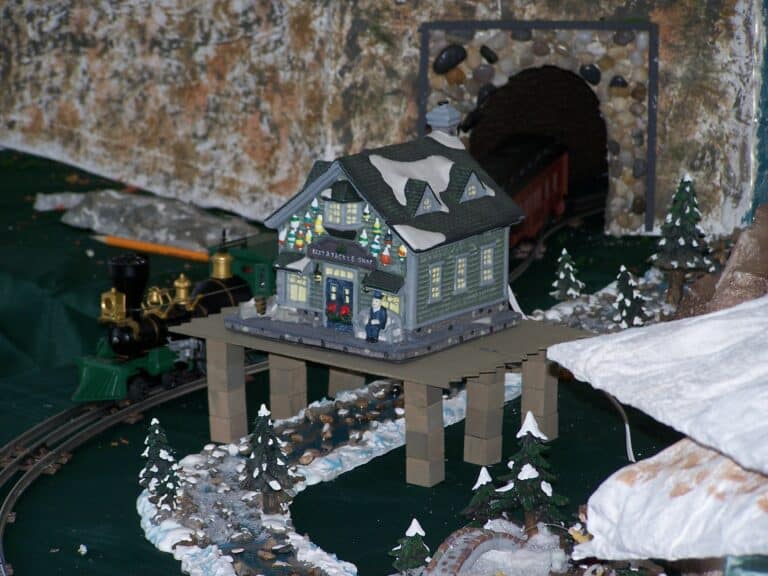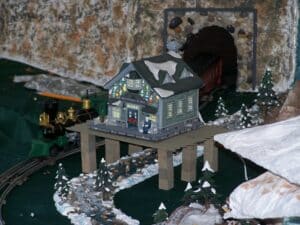 We collected animated pieces like skiers, skaters, tobogganers, gondola, flying Santa and reindeer, and even a little guy pumping the well at the farmhouse.  When we couldn't find any more ceramic river pieces from our favorite holiday store, we made them and painted them to look just like the ceramic pieces. We even built an entire trestle for the trains that accommodated houses on top of them which allowed us to build up as well as out as we ran out of room.  When you have creativity in your blood, it's hard to quit, you know.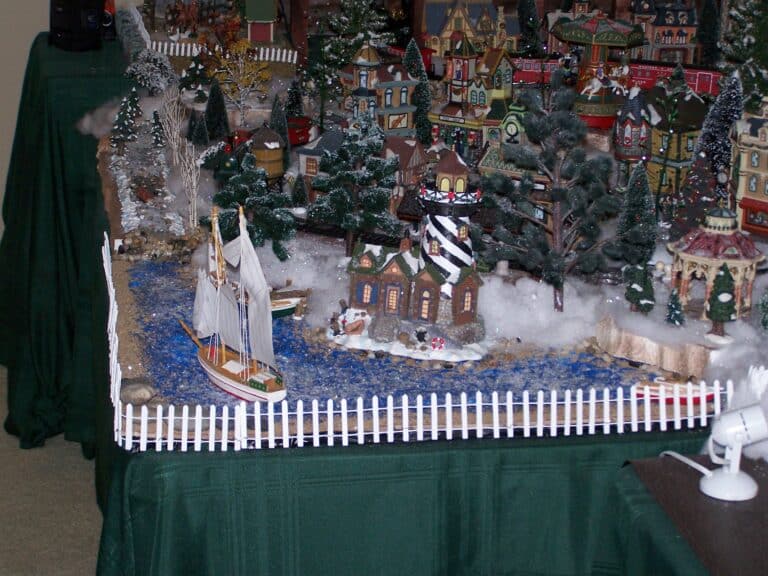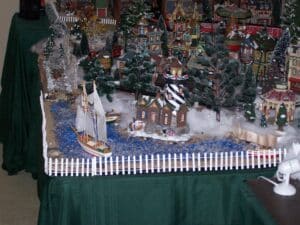 When our son was little, he enjoyed helping build various pieces for the village with plaster of Paris too, and we would paint what we built.   We made waterfront for the lighthouse, and he used his little fingers to make the waves in the wet plaster which he would then paint blue.  He painted the tips of the waves white to look like a rough sea and we still have it in our collection.    He also loved creating a fort with his favorite Christmas lights under the tables of the Village where he would sleep during the Christmas season.  He's a boy, what can I say.
The little Christmas Village soon became a bustling city with hillsides covered with houses, churches, a ski resort, hunting grounds, a waterfront to highlight the lighthouse we found at a bargain price, and eventually, a farm.   Being from Wisconsin, even when you leave to explore the world, the land of red barns and happy cows always holds a special place in your heart.    Guess that's what brought us back.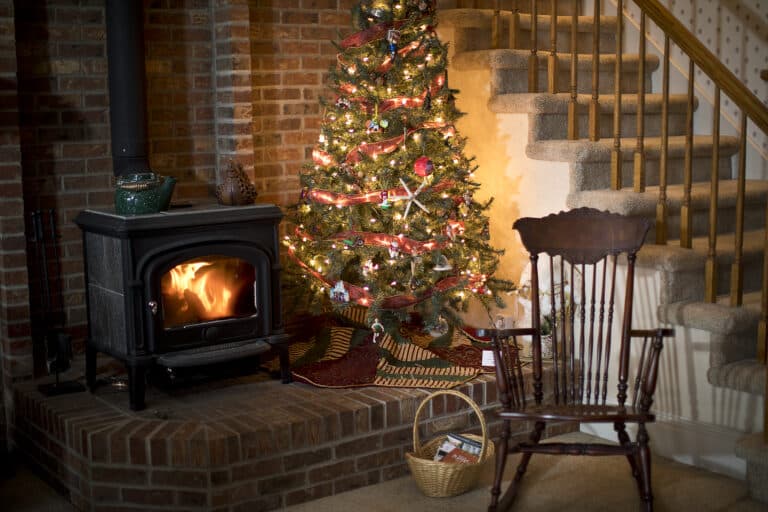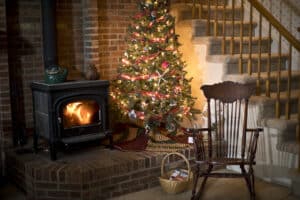 Whether spring, summer, fall or winter, this home is inviting, but at Christmas time, it's really special.  The gathering room features sitting area with a wood stove and with all the trees we have on this property, it's a great heat source not to mention cozy and inviting.  Whether you choose a suite in which to hibernate during your retreat or take advantage of the gathering room or our complementary snowshoes to explore the property, it's a warm, inviting place to be.  And don't forget about our farm to table breakfast that now features a menu with many items to choose from as well as various times in which to enjoy it.
Our Christmas Village and all the other festive holiday decorations are up from Thanksgiving until January 22nd.   Browse through some of our holiday photos to see for yourself.  If you love Christmas like we do, we hope you'll come and stay with us and experience the warmth The Speckled Hen Inn has to offer.