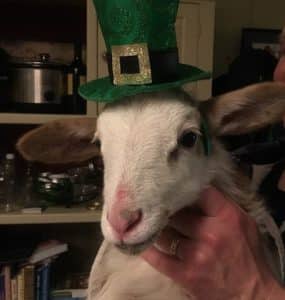 St. Patrick's Day is a great excuse for fun, especially in Madison, WI!   If you're looking for some things to do, why not consider a few of these ideas?  Since St. Patty's Day falls on a Saturday this year, it's a great opportunity to spend a whole weekend pampering yourself at The Speckled Hen Inn while you're enjoying the festivities Madison has to offer.  Enjoy a luxurious room, fireplace, Jacuzzi tub, and a fabulous breakfast before your adventures begin.
After your breakfast, head over to the late winter Dane County Farmer's Market which is held indoors at the Senior Center through April 7th from 8am – 12noon.  There are some great finds including honey, winter vegetables, specialty jams and of course, Stella's Bakery's famous original cheese breads!
Then join the throngs for more fun on Capitol Square for the 21st Annual Madison St. Patrick's Day Parade!
If you haven't hit enough brew pubs on the Square by this time, you might want to stop at The Grumpy Troll, a legendary brewery and pub in Mt. Horeb  and stop by at the museum across the street if you have time – you won't be disappointed.
Then – experience Hooley in the Hollows at Cave of the Mounds – live music, treasure hunts, food & fun – but book your tickets soon because they always sell out!
If you've never been to Madison on a Sunday before, we caution you – many restaurants are closed after brunch.  We're still in the mindset that employees need time with their families too – so Sunday afternoons and evenings are for just that.  But don't lose heart – many are still open – you will just have to check to see which ones are that are on your route home.
And don't forget – book your stay now at The Speckled Hen Inn while there's still time!