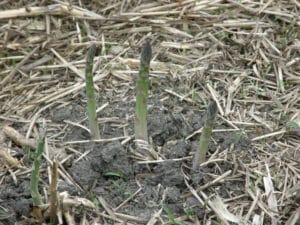 How many Wisconsin specialties can you list? Artisanal cheeses, craft beer, the Packers, our beautiful, great outdoors. There's a lot to be proud of. One thing that likely does not come to mind is asparagus. Is it really a Wisconsin delicacy? Well, maybe not to everyone, but it is delicious and Wisconsin does grow some of the most tender and flavorful asparagus.  The Bacon Wrapped Asparagus recipe that follows is proof that you can even enjoy Asparagus for breakfast.
Being able to grow an asparagus patch takes patience, the perfect soil conditions and, because it can take two to three years to establish and produce a crop, it requires even more patience. Even though it can grow in most hardiness regions, it requires a specific mixture of soil and sand for perfect drainage. I know people that have tried many years over to establish a patch and remain defeated after almost fifteen years. And yet it can grow wild in the ditches. As a child I remember driving down the country roads and someone would scream out, asparagus! As long as it hadn't gone to seed, we would pull over and begin harvesting the treats for mom to add to the supper menu that evening. Some of the best summer memories are of harvesting food and taking it straight to the table. There is definitely something special about the knowing the source of your food which is why, even if you can't grow it, we always recommend the Dane County Farmers Market for fresh, local produce.
At the Speckled Hen Inn, asparagus may surprise you again as it makes an appearance on our breakfast menu. If you can't be here personally to enjoy it with our other guests, we don't mind sharing our Bacon Wrapped Asparagus recipe so you can share it with your loved ones.
Bacon Wrapped Asparagus
To serve 8 people you will need 24 asparagus spears about the thickness of your pinkie finger, washed, patted dry, and the tough stem end trimmed off and 12 slices of center cut bacon.  Slice the bacon pieces lengthwise to create 24 long narrow strips.  Spiral wrap the bacon around an asparagus spear leaving gaps between each wrap.  Place the wrapped spear on the rack of a foil-lined broiler pan.  Repeat with the rest of the asparagus and bacon.  Place the pan in a cold oven and turn the oven on to 400 degrees.  This cooking method reduces the shrinkage of the bacon.  Bake until the bacon is crisp, about 20-25 minutes.  Serve 3 pieces per person.