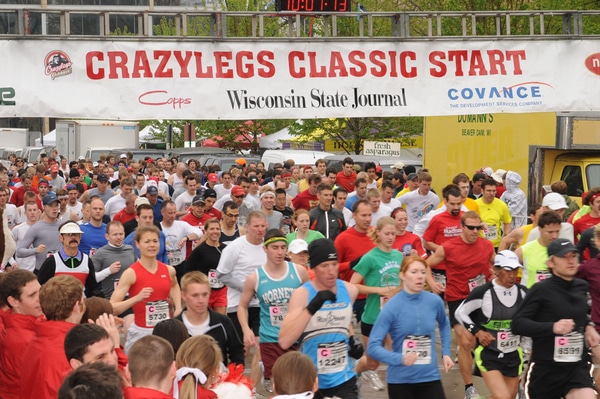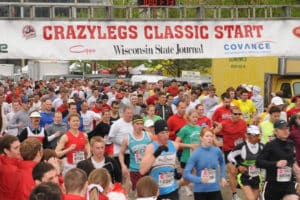 Now that we've emerged from the winter dungeons of treadmills we thought that it might be a good time to pass along some good advice for runners in the Madison, WI area. Running safety is a serious concern and shouldn't be taken lightly. That means bringing out the bright running gear to ensure attentive drivers can see us. Regularly changing up your running route, facing oncoming traffic, and running without headphones are other simple measures a runner can take to ensure safety. There have been many tragedies for runners and bikers over the years and the Maureen Mengelt 5k Memorial Day run in Sun Prairie is just one of many that honor fallen athletes from our area. There is still time to sign up for the upcoming event with all proceeds going to youth activities in the Sun Prairie area. Many of us will be signing up for other charity events, fun runs and personal challenge events like marathons and triathlons. After all, it's the reward for all of the hard work put in to your workouts, right? Given the number of events, festivals and other activities in Madison, using the Running in the USA website, you can find a race or event that will meet your needs.
After safety, the next order of business for runners is their shoes. When I first began running, I just went to the store, found a pair of shoes that fit comfortably and went out to run. I didn't realize until roughly six months later that I desperately needed a pair of shoes that fit my foot and my running posture. On the recommendation of my nutritionist, I went to Fleet Feet, a sports store in Madison. When you go, bring clothing that is comfortable to run in and your usual running shoes. They'll ask you to run on their treadmill so trained professionals can analyze your posture while you run. Based on specific data, they will make a suggestion regarding the shoe brand and style that will be perfect for you. When I first went to have this done, I thought this must be a scam. They will surely sell me the highest priced shoes, right? However, you don't have to buy their shoes nor do you have to buy this year's high-priced model. You can purchase older version of the same shoe at much cheaper prices. My body and workout have been thankful for the change.
I've mentioned Madison's remarkable system of bike paths in a previous blog. This path also accommodates runners with its beautiful scenery along the lakeshores of Lake Mendota and Lake Monona as well as the gorgeous arboretum. If the joy of solo running is not your forte, there are several running groups and meet up events that can be found on the Madison Run Club website.
A hard workout deserves penetrating relaxation. After a long, fulfilling run, the sense of accomplishment is enhanced by sitting on the porch of the Speckled Hen Inn overlooking the peaceful property while listening to the lovely melody of birds nestled within the surrounding wooded area.