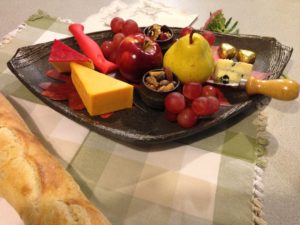 Read this to find useful information about some great Cheese Shops in Madison WI.
Ask anyone around the country (and possibly other areas of the world) and they'll tell you that Wisconsin is known for the Packers, cheese and chilly winters…and oh yes, beer. Likely, in that order. Growing up in Wisconsin, the love of cheese seems to be an integral part of our DNA although I didn't realize the intensity of this desire for quality cheese until I lived outside of the state for a few years. On my visits home, I would purchase cheese en masse from cheese factories, package it, freeze it and ration the precious contents until I could once again return to replenish the supply. I am lucky enough to have moved back to my beloved home state and the close proximity of readily available fresh cheese.
One of the places you might want to try in Monroe, Wisconsin is Baumgartner's Cheese Store and Tavern.  Monroe is known nationally as the ONLY factory in the United States still producing Limburger cheese today and Baumgartner's  always has a fresh supply to serve with a side of Andes mint candy. Yup, you will need a breath mint after your sample. Monroe has a long, rich history for the stinkiest, nastiest cheese you could ever imagine. It's a little out of the way, but if cheese is your thing, especially Limburger cheese and a road trip is in the cards, take a trip there. It won't be an experience you forget all too soon.
If a road trip to try some stinky cheese isn't what you're into don't worry. There are plenty of places in Madison to get your cheese fix. In the Madison area there are a few cheese factories but if your looking to get the biggest bang for your buck, the best bet is to go to the Saturday morning farmers market on the square. Most of the local producers will be present with samples so you can try before you buy from many vendors, yum!
If you can't make the farmers market, there is a small store characteristically named, Fromagination. It's located on the square and they sell a variety of wonderful cheeses from different local artisan producers. And, these people know their cheeses. The shop founder believes, guests should "fully experience their food: See, smell and taste the cheese, and learn about how and where it is made." Stop in for a cheese purchase and grab a bite to eat while you are there.  They sell sandwiches, soups, salads, chocolates and unique kitchen gadgets, too.  This truly is one of the many Great Cheese Shops in Madison WI.
Many of our guests choose to have the Wisconsin Cheese Sampler prepared and waiting for them in their room upon their arrival. It includes the chef's choice of 4 or more fine local cheeses, fresh fruit garnish, demi loaf of freshly baked sourdough bread and a bit of chocolate  to garnish the plate. It's a great way to enjoy Wisconsin artisan cheeses without ever having to leave the comfort of the Speckled Hen Inn.